Cork
'Art in my Home' Exhibition
ONLINE EVENT
This event is online only
Venue:
Online,
Cork
Town:
Cork
Time:
4:00pm - 11:55pm
Web:
www.facebook.com/midletonartsfestival
---
Info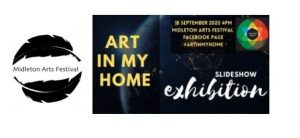 Midleton Arts Festival is pleased to announce 'Art in My Home'. An exhibition celebrating the art you have around you in your home. It simply involves a little bit of your time with your smartphone. The idea is to photograph art in your home, this can be your own work, the work of your children, any art you have bought, been given and love, make a slideshow, and send it to info@midletonartsfestival.com.
You can watch them with us as they go live on Culture Night from 4pm. Keep a lookout on our FaceBook page in case the time changes and for updates. Come and see wonderful slideshows people have made from the art in their home. Already we have some fabulous submissions from all levels and styles. This is for everyone to do. Join in, make your own! Email it to us or message it via FaceBook and we will include it. You are curating your own show and you can present your own masterpiece.
Be part of the Midleton Arts Festival Culture Night! It is lovely to include a soundtrack, please ensure that you have permission to use the music and that it is not copyrighted.