Carrigaline
Circus Factory
Venue:
Carrigaline Town Centre,
Main street
Town:
Carrigaline
Time:
4:00pm - 9:00pm
Phone:
086 3220336
Web:
www.owenabuearts.ie/
Facebook:
Owenabue Arts Collective
Twitter:
twitter.com/owenabuec?lang=en)
Email:
info@owenabuearts.ie
Wheelchair Accessible:
Yes
Age:
No
Booking Required:
No
---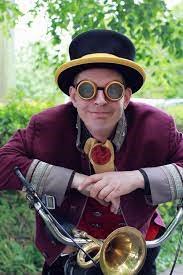 Info
There's no thrill like a circus being in town, and one is rolling up in Carrigaline for Culture Night. Circus Factory will bring the stories, colour and life of circus arts to the streets of the town, with performances throughout the day in different areas of Carrigaline. Among the highlights is Wobbly Circus, which will be in the area with a clown on a bike: they call it free-range circus with added bass.
This event is supported by #llpps through the Department of Tourism, Culture, Arts, Gaeltacht, Sport and Media.