Youghal
Brú na Sí workshop
Venue:
Brú na Sí,
Brú na Sí
Town:
Youghal
Time:
4:00pm - 6:00pm
Phone:
087 7934504
Web:
brunasi.ie
Facebook:
Brù na Sí
Twitter:
micheal de buitleir
Email:
michealdebuitleir@msn.com
Wheelchair Accessible:
Yes
Age:
Over 6 under 18
Booking Required:
Booking by text to 0877934504.
---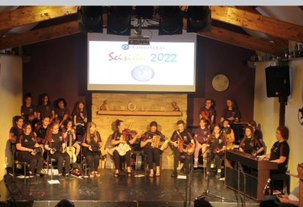 Info
Workshop at Brú na Sí in preparation for an evening performance at the Mall Arts Centre. Participants will get a chance to meet our Panel of Teachers who are on standby for classes in September . The workshop is support by Cork County Council to reach out to underage members who were affected most by the Pandemic and also the Ukrainian community now learning music. The workshop will be followed by a Public Performance at the Mall Arts Centre Time TBC.