Skibbereen
Listening Stones
Venue:
Center of Skibbereen Town,
Main Street
Town:
Skibbereen
Time:
6:00pm - 9:00pm
Phone:
086 3095076
Web:
www.tomaszmadajczak.com
Facebook:
tomaszmadajczak
Wheelchair Accessible:
Yes
Age:
No age restrictions
Booking Required:
No
---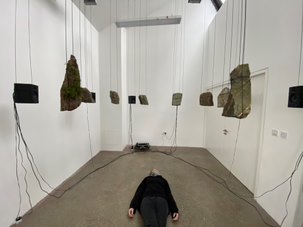 Info
Immersive octophonic sound installation created by Tomasz Madajczak and William Bock consisting of sound recordings captured in an abandoned stone quarry in West Cork.The sound score combines acoustic fragments of stone, animal, voice and the artist's speaking in their mother tongue (Polish/Swedish/English), each a meditation on the relationships between the outer physical and inner emotional landscapes that have shaped the identities of each artist. The artists will respond to the specific acoustic landscape, by situating the sound installation in a place that heightens the visitor's physical relationship with the surrounding space. The installation will be situated in the center of Skibbereen.