Carrigaline
Art on The Rails
Venue:
Carrigaline town Parklet and bridge railings,
Opposite The Owenabue Art Gallery
Town:
Carrigaline
Time:
4:00pm - 9:00pm
Phone:
086 3220336
Web:
www.owenabuearts.ie/
Facebook:
Owenabue Arts Collective
Twitter:
twitter.com/owenabuec?lang=en
Email:
info@owenabuearts.ie
Wheelchair Accessible:
Yes
Age:
No
Booking Required:
No
---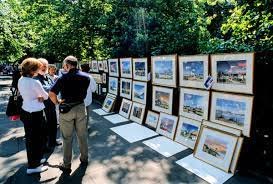 Info
Unleash the talent ! Everyone is invited to display their artwork on the railings in Carrigaline town Parklet – whether you're a newbie, dabble at the weekends or a professional artist. Young and old alike are invited to display artwork and chat with fellow artists. You're welcome to paint on the day, sell your artwork if you wish but you must remain nearby to mind your own mini Exhibition. Don't forget cable ties, a chair and a picnic !